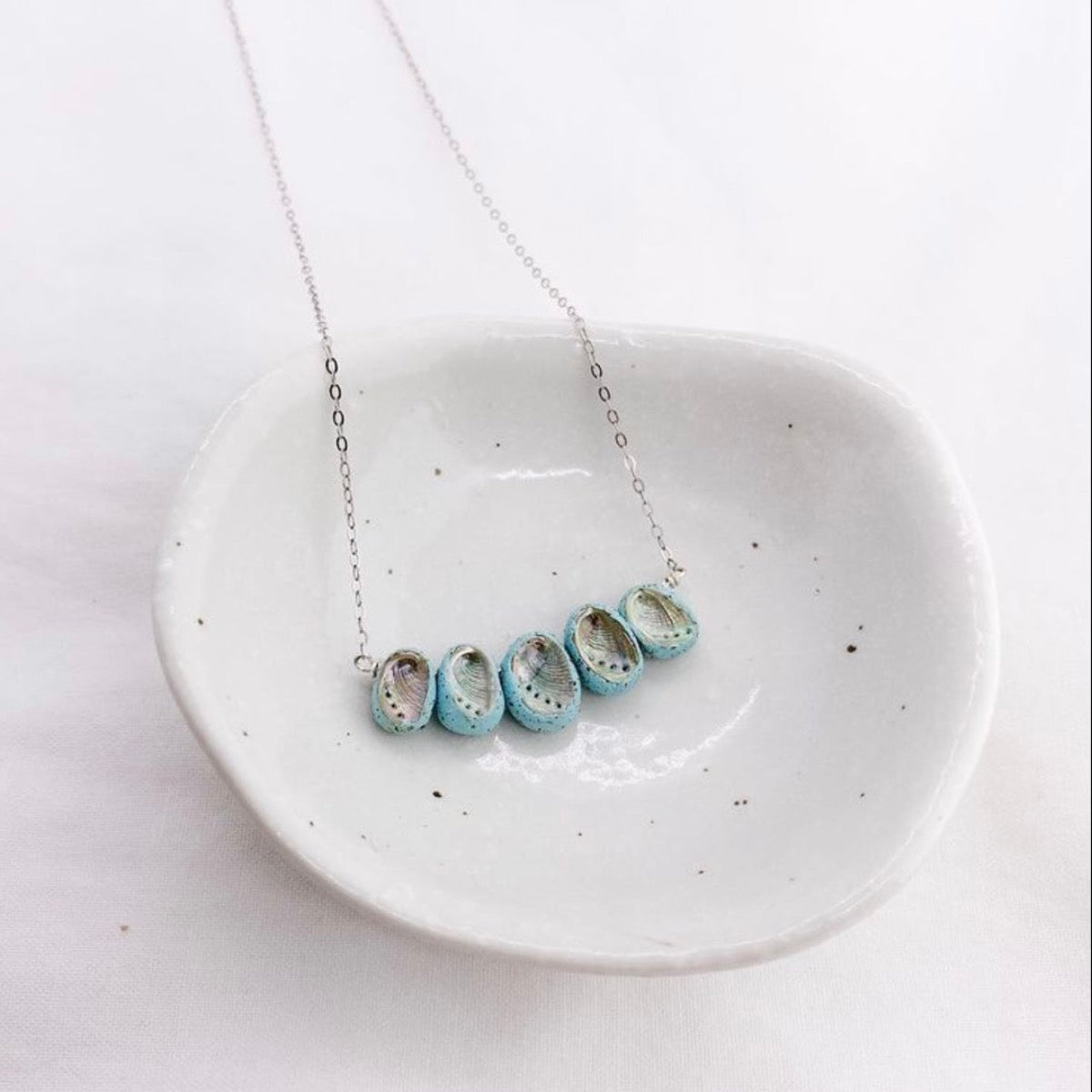 Just wanted to make sure you guys know that this is not the wild and endangered paua, but the sustainable farmed ones (read: I am not a poacher
).
We have a variety of sizes from 5mm - 30mm.
DESCRIPTION
A row of tiny real farmed paua shells representing each member of the family. An organic nature necklace to tell your whānau (family) story. Paua shells are sculpted with beachstone (with speckles of New Zealand beach sand). They are strung on tarnish free wire and set on a delicate sterling silver chain necklace.

Beachstone setting – Inspired by the organic beauty of beach sand & stones, we've created these 'beachstone' settings out of resin putty and clay. Hand formed with New Zealand beach sand inclusions, we've chosen marine turquoise to match the hues of the paua and the ocean.

PAUA STORIES
– Blue Paua (Blue Abalone) is an endemic (indigenous) marine mollusc  that can be found around the coast of New Zealand. Paua symbolises all of what it means to live in this beautiful country.
- Paua shells are also a symbol of home as they were once the dwelling place for marine creatures. A meaning piece of jewellery to keep your thoughts at ease and remind yourself that you will always have a safe haven wherever life may take you.
- Paua's iconic internal lustre also represents true inner beauty that never fades away but grows & matures with time.

OTHER DETAILS
- shell height approx 6-10mm
- chain metal: adjustable, 40-50cm/16-20in, sterling silver 
- packaging: charcoal black cardboard box

PROVENANCE
Paua shells have been sourced from a sustainable and ethical local paua farm. These shells have not reached full maturity so have been sustainably repurposed for jewellery.

ONE-OF-A-KIND JEWELLERY
We work with natural elements to create pieces that are one-of-a kind. What you receive might not look exactly the same as what is pictured, but each piece will share your individuality and uniqueness!
PLEASE GET IN TOUCH IF YOU WOULD LIKE A NECKLACE WITH A CERTAIN NUMBER OF SHELLS