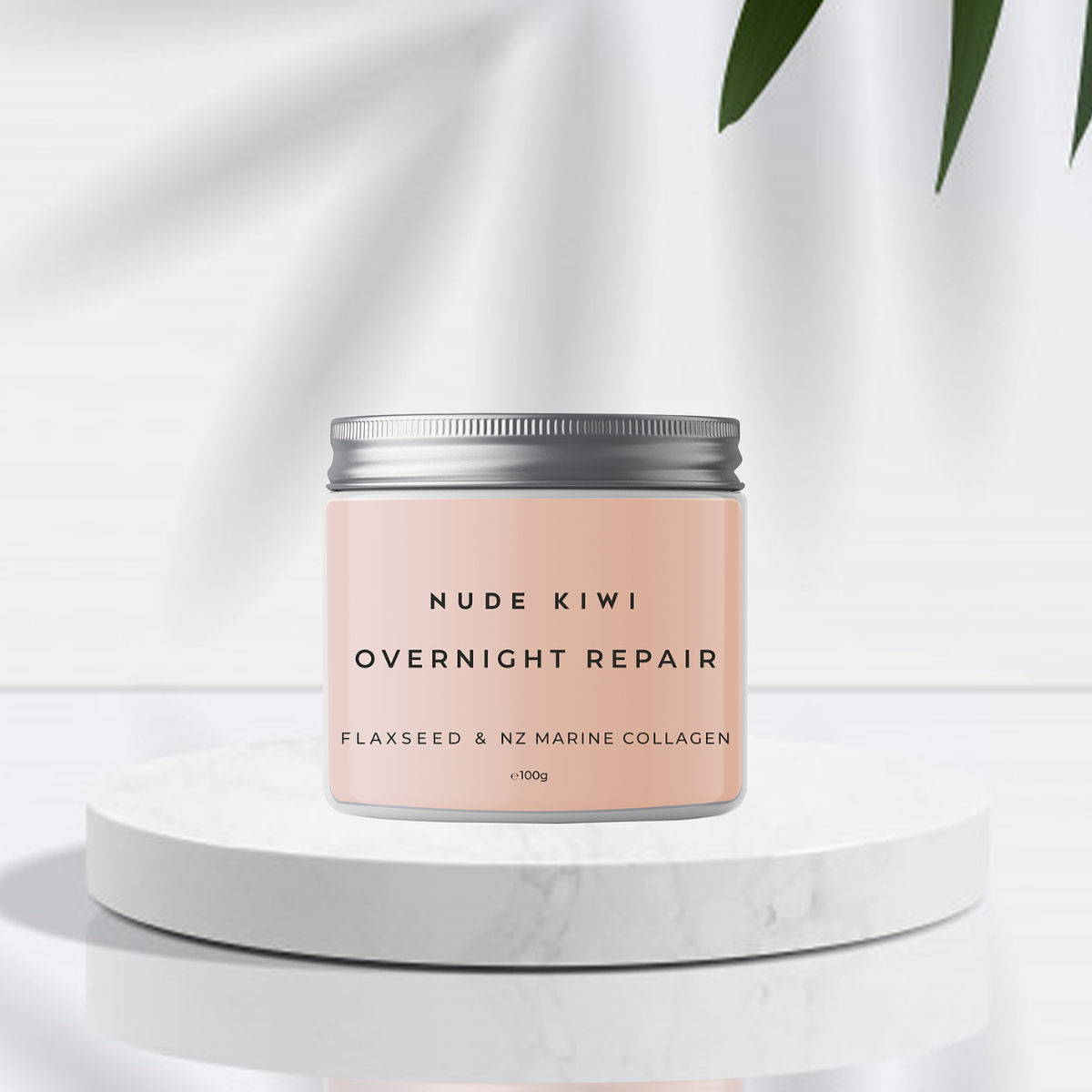 Wake up looking refreshed. Treat your tired, stressed skin to a true boost of nourishment while you sleep.
Flaxseed and Rosehip oils help to even your skin tone, reduce dark circles and fine lines. 
NZ Marine Collagen and Kiwifruit Extracts help your skin defend against the effects of pollutants and assist with moisture retention to smooth your complexion.
Shea butter and Chia Seed Oil act as a multi-vitamin to deeply nourish your skin.
Naturally fragranced with Rose Geranium and Lavender essential oils for a calming effect before you sleep.
Key Ingredients and Benefits
NEW ZEALAND MARINE COLLAGEN
100% New Zealand origin marine collagen with vitamins and essential sea minerals aids in healing the skin and boosting its structure. Marine collagen helps to restore, firm, and plump skin, as well as hydrate.  

FLAXSEED OIL
Essential fatty acids help smooth the appearance of wrinkles by helping to repair skin cells. Flaxseed Oil is known to moisturize, even skin tone, and reduce dark circles.

ROSEHIP OIL
Helps to moisturize and repair, having a deeply nourishing effect on ageing, dehydrated, or irritated skin. Rosehip Oil is packed with Vitamin A (retinol) and Vitamin C, which is known to help brighten, boost collagen, and protect your skin against environmental stress.

KIWIFRUIT EXTRACT
Contains high levels of antioxidants, Vitamin C, and micronutrients which help to defend your skin against free radicals and the effects of airborne pollutants.

ALOE VERA
Rich in antioxidants, Vitamin C and E to help nourish and soothe your skin. Aloe vera shows anti-aging properties which help improve skin condition and reduce fine lines and wrinkles, while moisturizing and hydrating without greasiness.

SHEA BUTTER
Shea Butter is high in essential fatty acids and vitamins to help soften, soothe, and heal inflamed skin to tone and improve the skins condition. 

INGREDIENTS LIST

Purified Water, Avocado Oil, Cetearyl Olivate & Sorbitan Olvate, Chia Seed Oil, Flaxseed Oil, Rosehip Oil, Shea Butter, Beeswax, Kiwi Fruit Extract, Sorbitan stearate, Glyceryl monostearate, Manuka Extract, Dehydroacetic acid & Benzyl alcohol, Rose Geranium Oil, Aloe Vera Powder, Xanthan Gum, Grape skin extract, Lavender Essential Oil, Marine Collagen