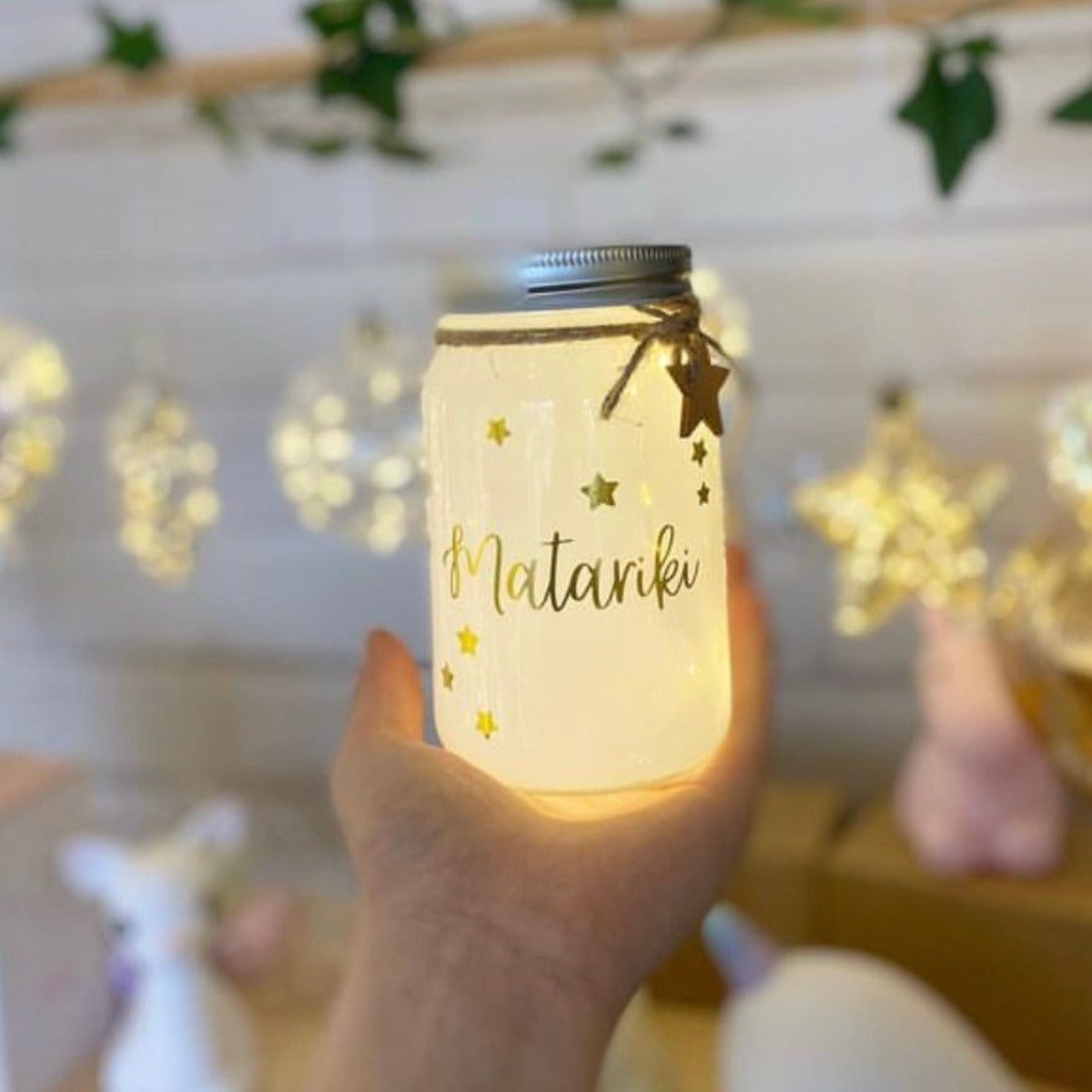 Matariki – a star cluster known worldwide and treasured in Aotearoa New Zealand as symbolising Māori New Year.
A time of renewal and celebration in New Zealand that begins with the rising of the Matariki star cluster.
A white Matariki print jar gives a pretty, warm glow for the cold winter nights when we gather those close to us and gaze up at the night sky... or for those more adventurous when we get up early and see Matariki before sunrise. 
What is Matariki?
The Matariki star cluster is known by many names, including Pleiades, Subaru, the Seven Sisters and Messier 45. The cluster is unique and has special significance to many cultures worldwide, including Māori in New Zealand. 
Historically, most of the stars were closely tied to our relationship with nature in planting, harvesting and hunting, while two lead us to remember loved ones past and honour our desires and dreams for the time ahead. 
How do we see Matariki?
From early June, just before sunrise, look to the north-east horizon. Find the constellation Tautoru, or Orion's belt (sometimes called 'the pot'). Trace a line northwards from the three stars of Tautoru. Look for a faint sparkle of tiny dots, about the same width as Tautoru is long. You've found Matariki! The cluster can also be seen during the summer months after sunset, until some time in May when it sets, signalling the end of the year. 
Why are we doing Matariki Sparkle Jars?
Our team is diverse, just like the beautiful nature of Aotearoa's residents. Some of us acknowledge Matariki in our home lives, and to us a jar was a natural extension of our love of beautiful lights, both those in the sky and the ones we can hold. For those new to the celebration it has been a wonderful opportunity to learn and support a Māori kaupapa within a uniquely kiwi family run business. 
Stellar Matariki Jars
The jars are white with gold printing of Matariki and 9 twinkle stars.
The come in the same window card packaging as our other large Sparkle Jars, and are also finished off with a jute twine bow and embellishment. 
LED Lights:
5 warm white LED seed lights inside the jar
Powered:
2x AAA batteries, sold separately
Battery case is under the screw on lid and safety cover
Dimensions:
14cm Height
8cm Diameter