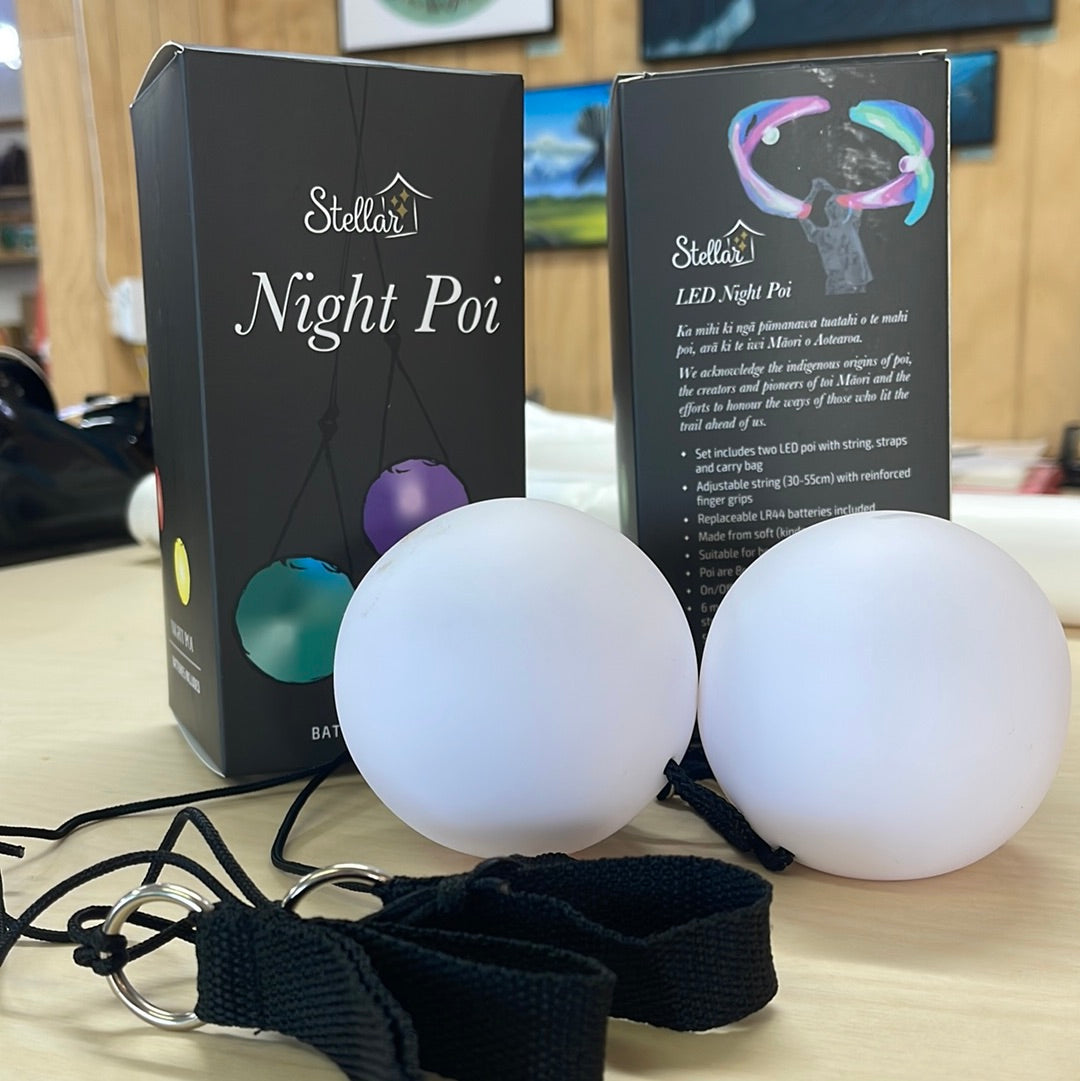 Ka mihi tēnei ki ngā pūmanawa tuatahi o te toi poi, arā ko te iwi Māori o Aotearoa. 
We acknowledge the indigenous origins of poi, the creators and pioneers of toi Māori and all efforts to honour and retain the ways of those who lit the trail ahead of us. 
PRODUCT DETAILS
Set includes two mid/long LED poi with handles, straps and carry bag
Adjustable handles/string 30-55cm with reinforced finger grips
Replaceable LR44 batteries included
Poi is 8cm diameter
Made from soft PVC
On/off switch
6 Modes: single colour, cycles and strobe
Indoor or outdoor use
Suitable for beginners, but padding in sensitive areas recommended
Small parts not suitable for under 3 years old (supervise children!)
Packaged in a stunning full print black card retail box 
POI HISTORY
The kupu (word) poi means both sphere (n), and to toss (v) and the kupu is now synonymous worldwide with poi performance.
The art of poi has long been practiced by Māori, the indigenous people of Aotearoa, New Zealand and there is research indicating the use of poi in our early Polynesian neighbours' communities. 
Traditional use was likely to develop coordination, strength and dexterity, but I'm sure the captivating playfulness included games, and led to the transition to the stage. 
Now the poi is a component of most kapahaka competition sets and a favourite for many performers and observers alike. 
Poi performance has also increased in pop and subcultures worldwide, and it is perhaps regrettable that the cultural aspects haven't travelled with it.
PRODUCT HISTORY
One of our Stellar founders, Katie is a big poi (kapahaka) fan and was amazed to find fire poi at music festivals in the 2000s. An increase in fire bans kept us all safe but snuffled the expression of poi at these events. 
So, in 2001 we (as Firefly Creations) developed an LED poi as an alternative to the banned fire poi. The first model was made from hacky sacks, the handles were long waxed cord with finger loops that cut the skin, and the carry bags were made and branded here by Southern Monograms.
We took photos in our backyard, and the pattern from those photos became the Firefly Creations logo as well as the skin for our 'Minimish' truck that travelled around selling glowing flashing things in the South Island. Think black corflute lined with fluoro fur... 
A few models (and decades!) later and we know we have a good thing - this style of LED poi is now sold worldwide (by many many people). We do hope the integrity of poi is upheld in the sharing of our sets with you.
Karawhiua!